New Zealand has several types of native wasps but 5 introduced species have become classed as pests, german, common and 3 types of paper wasps.  They can harm our native birds and insects, affect our environment and not to mention our recreation time enjoying picnics and BBQs.
RISKS TO YOU
Honey and bumble bees sting once, and only if provoked. Wasps can be very aggressive and sting multiple times. Most stings will hurt for one or two days and some irritation and localised swelling may also occur.
Applying a cold pack can help alleviate swelling and pain.
In some people the venom from a wasp sting can cause a severe allergic reaction usually within an hour of the sting and needs to be dealt with by a healthcare professional as soon as possible.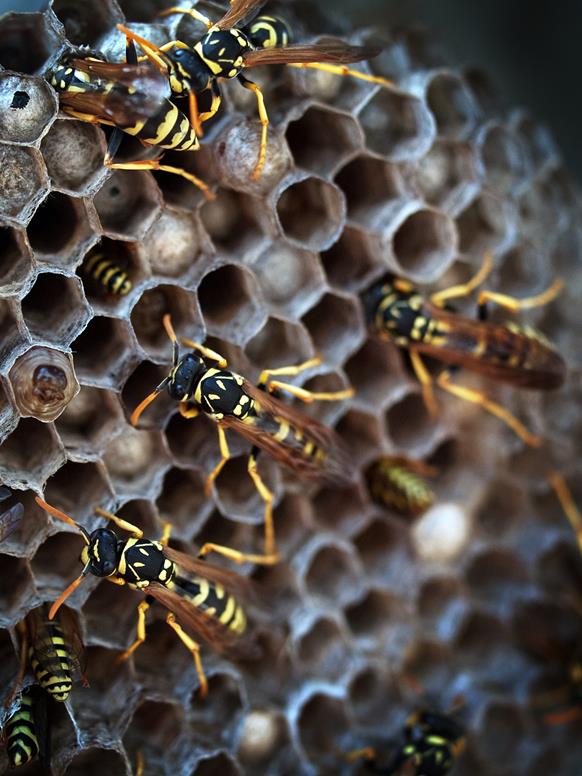 WHAT TO LOOK FOR
High activity of wasps around your home or garden
Wasp flight path – they usually fly in a straight path back to their nests
Paper wasps build hexagonal nests, these can be located on fences and under eaves
The common and german wasps often build their nests in a hollow in the ground, usually in dense bush or around trees. However they may build their nests under eaves or in other cavities, hidden from view but with a small entrance where they will enter and exit
HELPFUL TIPS
Take care with sugary snacks and drinks while outside that will attract wasps
Wear long sleeved light coloured clothing, long trousers and shoes to protect yourself. Wasps are attracted to bright or dark coloured clothing
Stay well away from hives but if a hive is found have a pest controller deal with it as soon as possible
WHAT WE DO
We will inspect and implement a guaranteed wasp control program to protect your building and advise how to reduce problems in the future.
Contact our friendly staff now on 

0800 776 770