Cockroaches are among the most common pests in both residential and commercial properties. The most common types in New Zealand are the German, American and a native, Gisborner commonly called the Bush cockroach. They prefer to live outside but will venture indoors in extreme weather.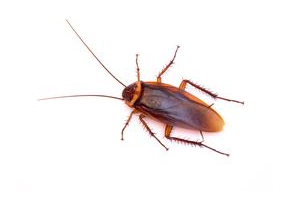 RISKS TO YOU
Because cockroaches eat a wide range of foods, including fecal matter and rotting food, they can contaminate food and even food preparation surfaces by their presence. Cockroaches can transmit certain diseases and cause food poisoning.
WHAT TO LOOK FOR
Evidence of cockroaches in warm, moist areas such as behind appliances and in bathrooms and hot water cupboards
Droppings which are similar in size and appearance to ground coffee or black pepper
Egg casings which can hold as many as 50 eggs inside. They are long rounded in shape and are brownish in colour
Odour is also a telltale sign and often described as an oily musky odour
Visible sightings, usually at night
TIPS TO MINIMISE COCKROACHES
Good housekeeping is a must. Keep all areas clean especially food preparation areas and in and around appliances including microwaves, refrigerators and dishwashers
Clear garbage and compost out daily and ensure rubbish bins are tightly sealed
Check groceries, particularly fresh produce to avoid introducing any pests
WHAT WE DO
We will inspect and implement a guaranteed cockroach control program to protect your home or building and advise how to reduce problems in the future.
Contact our friendly staff now on 

0800 776 770