Bed bugs are tiny survivors that can make a home in your mattress, drawers, luggage or on your curtains, headboards or walls – anywhere that is close to their food source.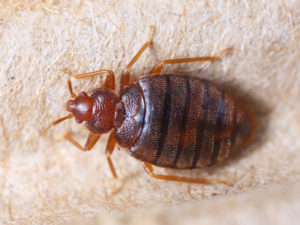 RISKS TO YOU
Bed bugs are insects that feed on the blood of their sleeping victims at night. Their bites are not known to spread infections, however they are often itchy and can become infected if scratched.
WHAT TO LOOK FOR
Blood stains on sheets or pillowcases
Dark or rusty spots of bedbug excrement
An offensive, musty odour from the bed bugs' scent glands
Awaking with bites that were not there the previous night
TIPS TO MINIMISE BEDBUGS
Recognise the signs of bedbugs at home and when you travel
Have a flashlight handy so you can make a thorough inspection of bedding
Inspect furniture, headboards and luggage. Whilst travelling keep your luggage off the floor and beds
Reduce clutter and vacumm regularly
WHAT WE DO
Bed bug infestations can be hard to get rid of but not impossible. We will inspect and implement a guaranteed bedbug control program to protect your home and advise how to reduce problems in the future.
Contact our friendly staff now on 

0800 776 770